I haven't slept well the past several days. Darwin had a urinary tract infection, on top of kidney failure, which led to many unpleasant accidents that may have occurred on my lap…while I was sleeping. I've been peed and puked on way too many times before this baby has arrived. I know, TMI, but I'm just being honest here 🙂 Throw in a super active baby lately and when I finally have the opportunity to sleep, someone is waking me up from the inside. Needless to say, I'm a zombie and I spent the weekend cleaning and organizing some baby stuff that we're borrowing from my brother and sister-in-law. I felt very accomplished and feel much better about life (and Darwin started some antibiotics and has been accident free, whew!) But, it leaves you with a post full of randomness. Because that's what's going on in my head today!
On Friday, Mike and I returned to Babies R Us to test out the glider I wrote about last week. When I kicked my feet up onto the ottoman, I noticed something…
Yes I was wearing gray leggings and gray boots while sitting on a gray chair. At least now I have a good idea of the color and I might be carrying around my leggings as a swatch. Speaking of swatches, in the background are all of the other colors the chair comes in. I think we're going to go for it, I'm just scoping out coupons and hoping for a Presidents' Day sale.
Next to the picture of my gray boots on gray pants on gray chair on my phone is a picture of my gray cat…
Isn't she pretty? She's not often seen around here, as she normally resorts to a mean face when the camera comes out. Plus she's often in the shadow of her two special needs brothers, though she gets plenty of loving. She's my constant sidekick (sitting with me at the moment). I wonder if she knows how chic her gray coat is these days?
Something the complete opposite of gray (okay it's rainbow), is my Valentine's Day gift from Mike. I'm trying to organize my life (hence the mass decluttering I did this weekend), so Mike bought me this Erin Condren planner in the multi-colored chevron pattern…
Yes I know it's early, but the box it came in was so obvious that I knew what it was when it arrived today. I wanted one last year, but this adorable video won me over.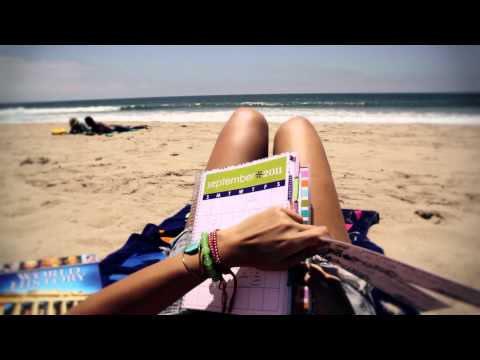 I am already in love with it and it's only been a couple of hours. I normally carry a small planner, a notebook for blog ideas and I end up sticking post-its all over my notebook/planner/wallet (yes I have a habit of sticking to-do lists to my wallet!) I figured this is only going to get worse as I juggle baby, work, blog and life, so it was time to upgrade my shabby little Target monthly planner I've been using for years. It comes with folders for stray papers and blank pages with each month, but possibly my favorite part of my new planner? The monthly and weekly goals and to-do lists…
The only way I managed to keep my head on straight through school, doctor's appointments, work and blog posts in the fall was constant planning. I pretty much plan out my weekdays from 7am until 10pm in order to get everything done. I try to save Friday night for down time (but it usually turns into running errands) and weekends for doing projects. This planner has days broken into morning, day and night so I no longer have to cram things into one little box that I normally wrote on the top and bottom of. Michelle from Ten June also has one and she gave a nice little rundown of the features here.
Already filled in for this week's goal? Install crown molding and baseboards in the baby's room. Thanks to a 3 day weekend coming up, I'm feeling optimistic. Or maybe it's the stickers with my name on them that came with my planner that made me feel a little brighter? 🙂
Tags: erin condren, gray, lacey glider, planner
4 Responses to "I Call This My Gray Period"