Ever since we added the SmartStrand carpet to the playroom, we have been living in there. Like, Mike and I literally sit on the floor in there all the time and we hardly use our family room anymore. I bring my coffee in there on the weekends (or if Easton wakes up ridiculously early during the week) and we just play.
Just before Christmas, we temporarily moved the Expedit that used to live in the office back into the playroom, but we placed it horizontally rather than vertically.
We placed it on the wall that you don't see when you look in, just to keep the clutter out of sight for now.
Yes, I took these pictures around Christmas time and never got around to writing this post. Whoops.
While it works temporarily, Christmas brought along loads of Fisher Price and about 4 toys that require different sizes of balls that are currently thrown all over the room. Easton throws just like Mariano Rivera, watch for yourself!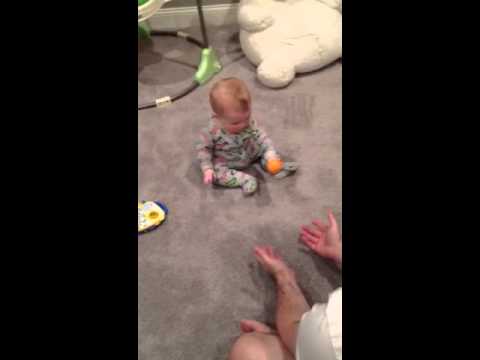 And then applauds himself. Humble, yet proud 🙂
When he's not hurling fast balls, Easton is at such a great age that he is able to entertain himself for a few minutes at a time. He loves his playroom. His latest trick is crawling away from us and proceeding to pull toys out of the baskets and Expedit…resulting in a giant mess already.
He has some toy cars in one of the bottom cubes that he likes to play with, while actually laying in the cube.
Our original plan, over a year ago, was to add some Ikea bookcases turned built-ins to the room ala Centsational Girl.
I still love this idea but the problem is, building in storage is relatively permanent. The room also has a floor vent in the corner that would make this project less than easy. The more we've thought about it, the more we think it's a good idea to do something that is easy to remove. Let's face it, this room won't be a playroom forever and it will evolve as Easton and his future siblings grow. Maybe we'll want to add a table? Or a couch? The room is relatively small (about 11'x13′ I believe) so we think that having more of a modular storage system would accomodate any changes we want to make.
Cue the Cameron storage system from Pottery Barn Kids.
While I like all of the storage that these units would provide, what I like more is the fact that they have straight lines and would be easy to DIY since the price is frightening. While I would like some closed storage mixed in, right now Easton is a pro at opening doors and getting his fingers stuck. Being able to add closed drawers/doors as he gets older and can manuever them would be great.
As for what direction I'm thinking for the rest of the room, we already own two pieces that have inspired me for this space. The first one is this New York print I picked up on Fab over a month ago. I ordered Mike some things for Christmas and I was close to free shipping, so I added this adorable $15 print I fell in love with.
I love the mix of neutrals and the bright yellow taxi. The grays and browns bring in the next thing we have for the room, this metal imagine sign.
We bought this piece literally years ago at a shop in New Hope, PA and it is handmade. We planned to hang it in the office when this room was the office, but the copperish line on the bottom always threw me off with the gray stripes (the sign was purchased even before we painted the stripes). But, with the addition of the taxi print, everything seems to be falling into place.
Please ignore the awful picture, but you can see how it all sort of works.
I haven't yet decided how to hang all of the things I want to add to the room (gallery wall? clothes line? shelves? leaning on bookcases?), but that's something to worry about later. For now, I just want a fun space full of garland (since I loved our xmas version), a play tent, fun art and one ball throwing baby.
And a hard surface for my coffee mug… 🙂